China, Korea's biggest ally will join US to 'end threat' : War imminent ?
North Korea has a history of  ignoring failed tests in its progress towards creating provocation in the neighbourhood and to US.  So after Pyongyang's  fizzled out missile launch on Sunday, US and China decided to sit together and  chalk out a 'range of options' to contain the North.
President Trump  said China is 'working with us' on the issue. Sunday's comments are an indication on of the two countries likely to get into joint-exercise to deal with N. Korean issue.
Beijing has been Pyongyang's biggest ally, but now there is great pressure from Washington to exert aggression on its neighbor for stability in the region.
Referring to the North's latest missile power display albeit a failure, Gen McMaster, who was in the Afghan capital, Kabul, said the  launch "fits a pattern of provocative and destabilising and threatening behaviour".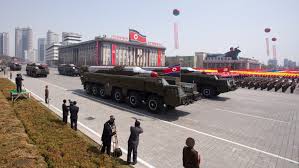 Kim Jong-un says North Korea has developed miniaturized  nuclear warhead that can be put on intercontinental missile and reach different targets around the world, a claim that lacks evidence.
The state has conducted five nuclear tests and a series of missile launches in violation of UN resolutions.
UK Foreign Secretary Boris Johnson said "They must stop these belligerent acts and comply with UN resolutions,"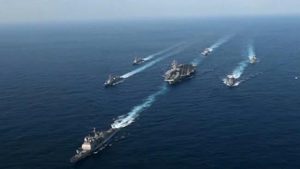 Meanwhile tension mounts in the Korean peninsula as US warships and aircraft carriers steam towards the region and the world sits up to watch.