PLANE RAGE : Rs 5 – 15 lakh Fine for Unruly Passengers Delaying Flights.
After a spate of abusive incidents involving unruly  passengers, Air India proposes to levy a fine up to Rs. 15 lakh on boarders misbehaving.  And  any damage caused in a conflict would be charged additionally, an airline official said.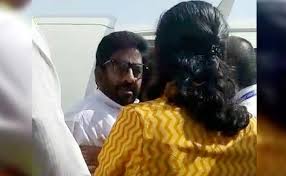 The move follows the most recent rage incident, where Shiv Sena MP Ravindra Gaikwad assaulted the airline's employee  with slippers for shifting him from business class to economy. The  Delhi-Goa flight was delayed up to three hours owing to the ruckus.
Earlier, Trinamool Congress's Dola sen delayed a take-off by nearly an hour  after a heated argument on booking emergency exit seat for  Sen's wheelchair bound co-passenger.
AirIndia's fine proposal is  presently in  draft form and is being consulted with its legal department. It states a fine of Rs. 5 lakh for flight  delayed  up to one hour, Rs. 10 lakh up to two hours and Rs. 15 lakh beyond that.
In future, the airline wants its ground handlers and staff to inform the airport manager, regional director and the CMD's office immediately upon encountering unruly passengers. A police complaint or FIR too should be filed if necessary , the airline said.  According to sources,  the airliner  staff will also undergo a  special training to contain anti-social behavior.
In response to Gaikwad incident, Delhi Police had registered a case against Gaikwad under Section 308 (attempt to culpable homicide) and 355 (assault or criminal force with intent to dishonour person).