Sub Collector Should be Sent to Mental Hospital : MM Mani
Known for  recklessness when it comes to political comments, Minister KM Mani today screeched  "Sub-Collector Shriram Venkaram should be moved to Mental Hospital at Oollanpara.".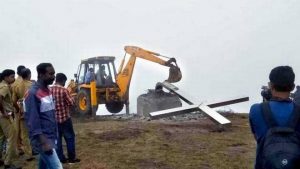 The  heated response came in context to Thursday's dismantling of cross from encroached land in Devikulam.
With curfew clamped and amid high security, the eviction team headed by Sub-Collector Venkatram had pulled down the massive cross in encroachment occupied earlier by "Spirit of Jesus".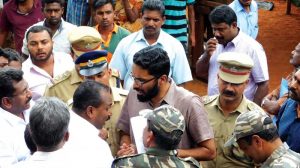 Left plans to shift the officer out on grounds that cross operation lacked essential precautions in place and clamping prohibitory orders violated rules, say sources.
Chinnakannal is the next eviction spot slated for clearance after Papathichola where the controversial cross removal took place. And several encroachments in Chinnakannal  are said to be held by CPM leaders. Besides, the sub-collector also collected documents pertaining to land held by MLA, S Rajendran and has initiated probe into his properties in village of Ikka Nagar in Munnar.
According to sources it is imminent headache in store for CPM leaders, who stand a good chance of losing lands to eviction, that has turned the tide against Venkataram.
Infuriated speeches by CPM leaders post-cross removal and coordinated protests combined with uncertainty on govt. response has brought Munnar eviction to a virtual halt, at least for now.