NASA Astronaut Fields a Question from Trump Only He Can Answer
President Donald Trump congratulated NASA  astronaut Peggy Whitson from his Oval Office on Monday on her record-breaking spaceflight.
Whitson had officially set US record for most cumulative days in space,  crossing Jeff Williams' record of 534 days.
Trump chatted with Whitson's fellow crewmember Jack Fischer drifting  thoughts to  the inspiration space brings to kids watching the distance video call LIVE around the country.
Then came the ticklish twist.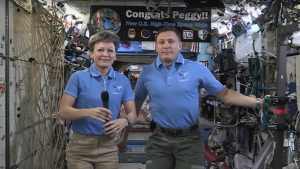 Presidents and lawmakers set agenda for NASA including timeline for missions and their funding. However, Trump bowled Whitson over with  "Tell me, Mars — what do you see a timing for actually sending humans to Mars? Is there a schedule? And when would you see that happening?"
The astronaut who had just set a new record  drew an answer on  bipartisan bill that Trump recently signed into law ,directing  NASA to get to Mars by the 2030s  although  it doesn't allocate the all-crucial funding it.
"Well, I think as your bill directed, it will be approximately in the 2030s," Whitson said.
Knowing well  that only a budget, which has yet to be fully proposed can work the goal, Whitson managed to squeeze in a pitch for NASA funding.
"…Unfortunately, spaceflight takes a lot of time and money, so getting there will require some international cooperation to get it to be a planet-wide approach in order to make it successful, just because it is a very expensive endeavor." she elaborated.