Donald Trump fires FBI director
A drama that closely resembles Kerala DGP Senkumar's removal has unfurled in US.
FBI  director James Comey has been fired by Donald Trump for not being "able to effectively lead the bureau".
According to sources Comey has been sacked on advice from attorney general Jeff Sessions and deputy attorney general Rod Rosenstein who recommended his removal over his handling of the Hillary Clinton email investigation.
However, critics believe the dismissal is more closely linked to Comey's role in investigating Trump's allies over alleged links to Russian interference in the 2016 election.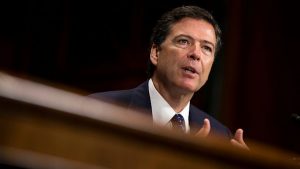 Comey was speaking to FBI employees at Los Angeles when the news of dismissal came in and initially thought it was a prank.
Richard Burr, a Republican who heads the Senate intelligence committee investigation into Russia's role in 2016 presidential election, said he was "troubled by the timing and reasoning" of the decision.
The investigation is said to have recently entered a new phase with grand jury issuing summons relating to the probe.
Chuck Schumer, Democratic minority leader in the Senate, said he told Trump he was "making a very big mistake."
Trump himself,  come up on the big story just once on twitter,  to attack Chuck's stance.
The president is due to meet Russian foreign minister Sergey Lavrov at the White House on today
Deputy FBI director Andrew McCabe has been made acting director though it's not immediately clear who will replace Comey.
Meanwhile, dollar plunged 0.2% dollar overnight on foreign exchange markets on back of Comey's removal.