Nudity is natural, Michael Jackson's daughter justifies her topless pic
For her haters and critics, Paris Jackson – the only daughter of the late pop superstar Michael Jackson – explained her controversial  Instagram post where she lies topless in the sun alongside her dog, covering her nipples with beetle emojis placed strategically.
"Nudity is natural and "part of what makes us human" the 19-year old model tried to explain.
However, the onslaught of critics seemed too much for young Paris and the post was deleted soon after.
She then re-emerged in her next post topless again  –smoking   and this time with a hand barricade to cover boobs partially. The pic came with a long message educating  readers on nudisim.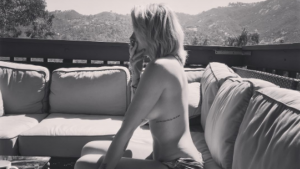 Nudism "started as a movement for 'going back to nature and was even called a philosophy" she claimed and it helps her connect to the earth and is a "beautiful thing" that does not have to be seen as sexual, says Paris.
"The human body is a beautiful thing and no matter what 'flaws' you have," she continues " whether it be scars, or extra weight, stretch marks, freckles, whatever, it is beautiful and you should express yourself however you feel comfortable.
Unfriend me
Though a nudity pro, she acknowledges the potential of a nude image to upset people but rather than apologizing she suggests they could unfriend her instead .
"If this makes some of you upset i completely understand and i encourage you to maybe no longer follow me, but i cannot apologize for this in any way. it is who i am and i refuse to shy away and keep my beliefs a secret." reads the message.
Sexual assault, sadness and suicide attempt
Paris was just 11 when Michael Jackson died on 25 June, 2009. In a recent chat with Rolling Stone magazine,  she said she believes her her father was murdered.
In revelation continued, she recalled that she had been sexually assaulted by a "complete stranger" as a teen  and talked openly about depression and a suicide attempt in 2013.
Michael Jackson died from an overdose of the powerful anaesthetic propofol.  The jury found his doctor Conrad Murray guilty of involuntary manslaughter.