Huge setback for Pakistan: ICJ stays hanging of Khulbhushan Jadhav till final verdict
The order  comes just 2 days after conclusion of 90-minute arguments from Pakistan and India to decide the fate of Indian naval officer Khulbhushan Jadhav, sentenced to death by an army court in Pakistan for allegedly spying and related activities.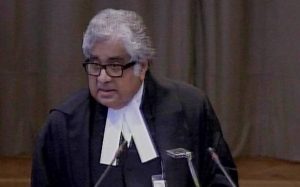 In an unanimous decision, judges at the International Court of Justice(ICJ) ruled that Jadhav shall not be executed by Islamabad until final verdict of the case.
The verdict stated that "Pakistan shall take all measures at its disposal to ensure that Mr. Jadhav is not executed pending the final decision in these proceedings and shall inform the Court of all the measures taken in implementation of the present Order. "
Further the court also affirmed that until the final verdict any matter relating to this case shall be updated to ICJ as an when it occurs.
Earlier Pakistan aimed to stave off ICJ intervention citing how  Common wealth countries are excluded from ICJ jurisdiction and Jadhav's case was a matter of it's internal security that UN court should not meddle with.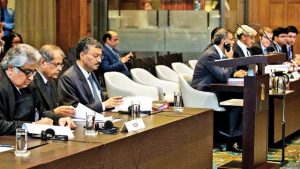 In today's ruling the court clarified its jurisdictional validity quoting India's argument that Court very much has jurisdiction over "disputes arising out of the interpretation or application of the Vienna Convention".
Pakistan arrested Jadhav from Iran and slapped charges of espionage culminating in death sentence by a court in Islamabad. India learnt of Jadhav put on death row from the media  and despite umpteen requests Pakistan denied consular access sought by India for its citizen,in crear violation of Vienna Convention provisions.
Islamabad has all along maintained that Jadhav was arrested in Balochistan not Iran on March 3, 2016 for his role in instigating sectarian violence through spy recruits and the crime befits capital sentence awarded, they claim.
India approached ICJ and Pakistan followed suit and a maximum of 90 minutes were allowed to each country to present their case whose fate has been pronounced today.
The ICJ was set up in 1945 to rule on disputes between nations in accordance with international law.