Coal Scam : CBI Chargesheets Naveen Jindal and 3 others, Manmohan Singh not guilty
In their probe into irregularities  in Coal Block allocations in Madhya Pradesh, Central Investigation Bureau  (CBI) has issued Chargesheet to Congress leader and industrialist Naveen Jindal and three other individuals on Tuesday.
Coal Allocation Scam nicknamed COALGATE, was a major political scandal where ruling Congress was accused of allocating nations coal deposits  to certain private companies sidelining the process of competitive bidding. The illegal allocations pertain to the period 2004 – 2009 and in 2012, then opposition Bharatiya Janata Party (BJP) lodged formal complaint resulting in CBI investigations into the scam.
CBI today told the court that, Jindal's company Jindal Steel and Power Limited (JSPL) conspired with former Minister of State for Coal Dasari Narayan Rao to influence the screening committee that allotted coal blocks, by paying more than two crores.
Last week, the CBI had stated three former coal ministry officials including ex-Secretary HC Gupta as  guilty of illegal deals at the same time  clarified that the corruption took place without the knowledge of former Prime Minister Manmohan Singh, who was in charge of the coal ministry.'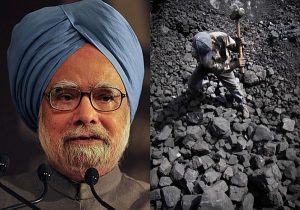 Aspects of non-compliance with rules, were not known to Dr Singh, who was "kept in the dark" and misled by senior bureaucrats, CBI said in its statement.
JSPL , a leading steel and energy player whose 60% stake is held by Jindal group, has also been chargesheeted.
Taking cognizance of today's development, the court issued summons asking all four including the steel company to appear before the court on September 4.