Indian Woman , Forced to Marry at Gunpoint in Pakistan, Returns Home
With teary eyes Uzma Ahmed recounts her ordeal to External Affairs Minister Sushma Swaraj and said. "There is simply no place like India".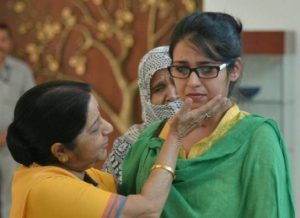 " It is easy to go to Pakistan but tough to return. Pakistan is a well of death"  Uzma added
Uzma, a woman in early 20s was on a month-long visit to a couple of countries when on May 3, she was allegedly drugged by driver Tahir Ali, who then forced her to marry at gunpoint in Pakistan. He also threatened to kidnap her daughter from India if she refused to comply.
Uzma , during her trip abroad, visited Malaysia, Singapore and Philippines but contends there is nothing like what she saw in Pakistan." Even those who go there after arranged marriages are crying. It is a difficult place not just for women, but for men too." she said.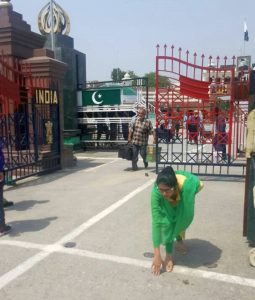 "I feel proud to be an Indian citizen. Had someone else been in my position, she would not have got out. Had I stayed there for two more days, I would have been dead," she continued.
Uzma thanked Swaraj profusely in aiding her release ""Sushmaji called me when I was in the court. She assured me that I had nothing to worry as arrangements would be made to keep me at the high commission in Islamabad for as long as two years."
She also appreciated the Pakistan foreign ministry for positive help.
On her return homeward Uzma kissed the earth at Wagah border to which Swaraj reflected, "This one gesture of hers has won over an entire nation."
In a thawed sentiment after tensed times between two countries, Swaraj  also acknowledged Pakistan Ministry's efforts saying "Uzma is here because of the co-operation of Pakistan's foreign and home ministries. I thank lawyer Shahnawaz Noon, who fought her case like a father" .
Not much is clear about how Uzma  landed in Pakistan after meeting Tahir in Malaysia.