Vehicle Flagged Down at Border, Rahul Gandhi Walks His Way into Saharanpur
Congress vice president Rahul Gandhi's convoy was intercepted at district border by authorities asking him to scrap his visit to the riot-torn Saharanpur district in Uttar Pradesh, in keeping with common instruction to all political leaders.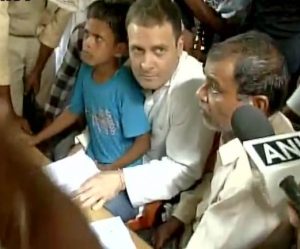 A defiant Rahul however is said to have left the vehicle behind and walked his way to meet with the victim families in one of the worst caste based riots in recent times, that targeted Dalits .
ADG(Law and Order) Aditya  Misra had earlier requested all political parties to abstain from visiting the State until normalcy was restored.  Accordingly, Rahul was denied permission to visit Saharanpur. However the Gandhi scion announced his determination to meet with the Dalits there and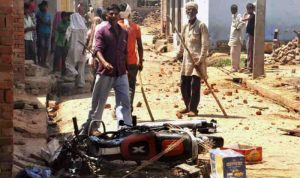 arrived accompanied by senior Congress leaders like Gulam Nabi Azad and Raj Babbar.
Having made rounds of Dalit homes on foot, he proceeded to slam the BJP-led government in Uttar Pradesh, for deteriorated law and order situation and oppressing Dalit communities.
"The government has failed on law and order in UP. Everybody in the country who is not powerful is scared and this is not the way to run a country," he said.
"BJP government in UP wants to crush and isolate Dalits and it is using all its might to stop those who will stand with them," he added.
The Backdrop
Violent clashes broke out between the Rajputs and Dalits  in Shabbirpur and Simlana villages  in May. Vandalism , arson and gunfire ensued in the encounters that first started during Maharana Prathap Singh Jayanti procession. Internet services were withdrawn following the violence.
Early on, Chief Minister Adityanath Yogi had suspended Superintendent of Police Subash Chandra Dubey and District Magistrate for failing to 'control the situation'.