MP CM calls off fast, says buying farm produce below MSP will be treated as crime
With "no further cases of violence reported in the State' Madhya Pradesh chief minister Shivaraj Singh Chouhan called off his "Peace fast" after 28 hours  on Sunday noon. He assured farmers that their demands will be acted upon and further said that henceforth, buying agricultural produce below Minimum Support Price(MSP) will be treated as crime.
He thanked supporters who accompanied him at Bhopal's Dussehra Maidan. "We have received wide support from Bharatiya Kisan Sangh and other groups. I am indebted and grateful to them,"  Chouhan tweeted.He also added that those instigating violence will not be spared and that bygone violence will be thoroughly investigated and culprits brought to justice.
According to sources, families of the dead had called him last night urging to end the fast.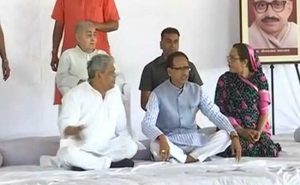 Chouhan had started his fast on Saturday seated beside his wife Sadhana with a portrait of Mahatma Gandhi  kept at the backside and said "I have always tried to do everything possible to help farmers. Their problems are ours. They are our own",
He sought to restore peace to violence-stricken after State.
On June 1, RSS-affiliated Bharatiya Kisan Sangh(BKS) announced farmer's protest demanding satisfactory prices for agricultural produce. The conflict that first took root in Malwa took a violent turn and spread to adjoining Mandsaur and Neemuch districts. The protestors engaged with police pelting stones, blocking traffic, torching vehicles and vandalizing streets.
Six farmers died in the police firing and a compensation of Rs 1 crore was announced to the next kin of the dead. Superintendent of Police in Mandsarur district, 3 collectors and 2 District Magistrates were removed from their posts as violence gripped the State.
Farmers woes resulted  from price crash in most crops partly from bumper harvest and more owing to demonetisation-induced liquidity crunch that have shrunk buyers.