Confederations Cup 2017: Germany face Chile in Final
After thrashing Mexico 4-1 in the semi final on Wednesday, World Cup-winners Germany reach the finals to face Chile at the Krestovsky Stadium in St. Petersburg as both sides eye their first Confederation Cup trophy.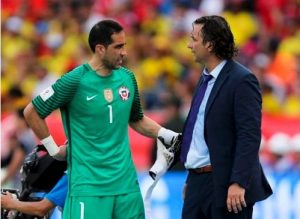 Chile, current Copa America winners for the second time in a row (2015 and 2016) look to halt the formidable Die Mannschaft, after the latter have proved to be one of the most feared teams in the world following the 2010 and 2014 World Cup. Alexis Sanchez, Eduardo Vargas and Arturo Vidal have to make the most of every opportunity that presents itself in the German third if they are to stand their ground against arguably the most formidable team in history. The defensive line that is most likely to be composed of Mena, Isla and Beausejour are going to have a hard time as they struggle to keep pace with German tactics that blur the lines between forwards and midfielders.
This is the first time Chile have reached the finals of a Confederation Cup.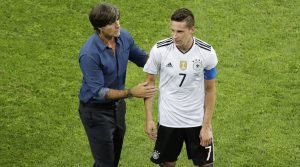 Germany on the other hand have to be weary of counters from the South Americans who are deadly in penalties. Should they be unable to score and the match go to a penalty shoot-out, the balance may get tipped the other way for Chile have brought many footballing giants down to the ground through penalty shoot outs including Argentina (2015 and 2016 Copa America Final) and Portugal (Confederation Cup 2017 Semi Final) and the white shirts may just be another fallen skeleton by the red-shirted grim reapers in a penalty shoot-out.
Having won the third place at home in 2005, this is the first time the German side are reaching the final of a Confederation Cup final.
The match is scheduled to start at 11.30 p.m. IST on 2 July.
Portugal face Mexico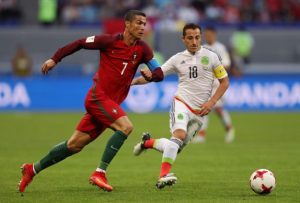 Portugal and Mexico will battle it out at the Otkrytiye Arena in Moscow for a chance to restore some of their lost pride. Captain Cristiano Ronaldo will feel most pressured to deliver after failing to reach his team to the finals despite being widely regarded as the best player in the world. The El Tri will try their best to stop the Europeans and especially the famous Real Madrid number 7 as they themselves will look to threaten with Javier Hernández and defense-splitting passes.
The match is scheduled to start 5.30 p.m. IST on 2 July.