Hurt : Tom Cruise loses control, crashes onto building side on sets of "Mission Impossible 6"
Tom cruise, the daredevil Hollywood star who prides performing his own stunts, was filming a roof jump stunt for upcoming Mission Impossible – 6 when he lands a little short of the mark and hits against the side of the building and limps about in pain.
Scroll down for the video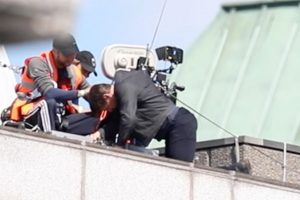 The  video footage shows the 55-year-old actor taking a gigantic leap off some rigging while attached to his harness,. It is reportedly a stunt, he tried and failed at least twice before this one.
After the mishap, the star was pictured falling to his knees and limping before clutching his knees in apparent pain.
The extent of injury is not yet clear.
Tom has been training for an year to be doing what being revealed as the biggest stunt sequence of his career, in this film.
https://youtu.be/ebrw_2HydrQ