US Investigators grapple with secret life of Las Vegas shooter
US Investigators are trying hard to decipher the 'secret life' of Stephen Paddock for possible clues to his motive in killing 58 concertgoers and injuring hundreds in Las Vegas last week.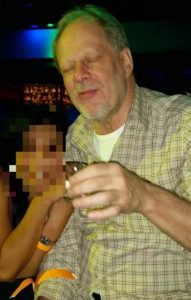 Sifting through last details on last 10-years of his life Paddock , they learnt, was a high-stakes video gambler who interacted little with other players.
Paddock used devices known as bump stocks to augment shooting power of his semiautomatic rifles. In a marked shift, the NNational Rifle Association lobby endorsed restricting the device's use.
Meanwhile, his long girlfriend, Marilou Danley, said on her return from Philippines that she had no knowledge of his plans.
"They were adorable – big man, tiny woman. He loved her. He doted on her," said Eric n Florida
But employees at Marilou's workplace however described their relationship differently saying he berated and humiliated her publicly.
Authorities say, the two gambled side by side and Paddock transferred a large amount close to $1,00,000 to an account in Philippines leading to speculation that he must have packed Marilou to her hometown so there was no interference to his plans.