Setback : BJP lost Modi's hometown to Congress
Ahmedabad : As BJP's resounding victory endorsed it's continued strength, there have been visible cracks, notable being Congress grab of Unjha constituency that comprises PM Narendra Modi's hometown of Vadnagar.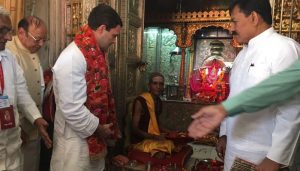 There Congress's Asha Patel defeated incumbent BJP MLA Patel Narayanbhai Lalludas by a margin of over 19,500 vores in the traditional stronghold of the Patidar community.
Asha scored 81,797 votes while BJP rival had to contend with 62,268 votes.
Back in 2012 Lalludas had defeated Asha by a margin of nearly 25,000 votes.
Rahul Gandhi during his extensive campaign in Unja had caught added spot light when he prayed at Umiya Mata temple, close to Vadnagar.