Jairam Thakur Takes Oath as Himachal Pradesh CM : Modi, Shah Present
Jairam Thakur took oath as Himachal Pradesh Chief Minister on Wednesday in the presence of Prime Minister Narendra Modi, Home Minister Rajnath Singh, BJP president Amit Shah and several Union Ministers at the historic Ridge Maidan in Shimla.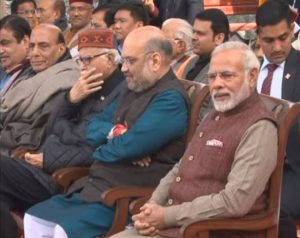 BJP had dislodged incumbent Congress govt in the State winning 44 seats in the 68-member Assembly elections.
Thakur said that his government would do away with the "VIP culture" promoted by the previous govt.
Thakur won from Seraj constituency of Madhi district in the state.
Around ten ministers swore-in as ministers in the crowd of over 50,000 people.
Ministers of State
Following took oath as Ministers of State in the Cabinet:
Mahendra Singh from the Dharampur constituency in Mandi district
Suresh Bhardwaj from Shimla district
Kishan Kapoor from the Dharamshala constituency in Kangra district
Anil Sharma from Mandi district
Sarveen Chowdhury from Shahpur in Kangra district
Ram Lal Markanda from Lahaul and Spiti
Vipin Singh Parmar from the Sulah constituency in Kangra district
Virendra Kanwar from Kutlehr constituency in Una district
Bikram Singh from Jaswaan Pragpur in Kangra district
Gobind Singh from Manali in Kullu district
Rajeev Saijal from Kasauli in Solan district