Sending Salman To Jail, Judge Said.."Bec People Look Up To Him"
Jodhpur : The judge of Jodhpur who sentenced  Salman Khan for killing blackbucks in 1998 said he was sending the actor to jail because the "accused is a film star and people look up to him".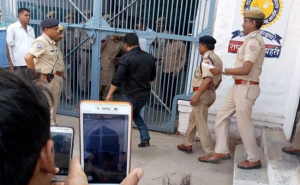 The 52-year-old was sentenced to five-year imprisonment and was taken straight to the Jodhpur Central Jail from the court.
"Since the accused is a film star, people follow him and look up to him. And the way he killed innocent deer and because there is rampant poaching…" said the judge elaborating the reason behind jailing Salman.
Four other Bollywood stars Saif Ali Khan, Sonali Bendre, Tabu and Neelam Kothari were acquitted for lack of evidence.
The actor maintained innocence all through blaming the forest department for framing him in the case.
In 2015 he was cleared of killing a homeless man in a hit-and-run accident that took place in 2002. That decision has been challenged and rests in the Supreme Court presently.
Salman has been convicted under Wildlife Protection Act.
Salman's imprisonment will be costly to Bollywood given the Rs. 700 crore pending films he rides on.