TP Murder Convict Kodi Sunni Paroled Again
Thrissur : Kodi Sunni, the prime convict in the sensational TP Chandrashekaran murder case has been granted parole again, a move sure to kick up controversy.
The present parole is for 15 days ending May 12 and  comes just two-and-a-half months after Suni was last out.
When out on earlier parole, the murder of Congress youth Shuhaib in Mattannur was speculated to have .
There are allegations that Suni's parole violates norms. Jail authorities seek NOC (No Objection Certificate) from concerned police station before granting parole. But no such rule has been allegedly observed in Suni's case.
Also persons on parole have to report to the police station every week to mark their presence. According to sources, Suni the last time did not visit police station at all.
The Backdrop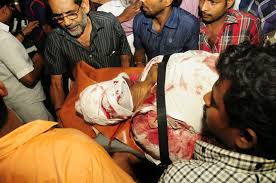 An eight-member gang led by Kodi Sunithat hacked to death Marxist rebel T P Chandrasekharan on May 4, 2012.
Chandrasekharan, previously a member of CPI(M) had left the party to form a parallel outfit called Revolutionary Marxist Party (RMP).