HC Orders Confiscation of Collateral; Locals Threaten Suicide, Tension Prevails
Kochi : High Court proceedings were temporarily disrupted after protestors supporting Pahadipalam native Preetha  Shaji raised commotion and threatened to set themselves on fire after the judge allowed confiscation of her house against a loan guarantee.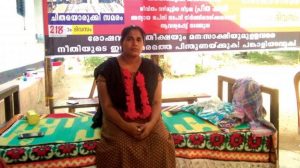 Preetha signed as loan guarantor for a bank loan of Rs. 2 lakh availed by her friend 24 back, the interest of which as now accrued to Rs. 2.5 crore.
Preetha reportedly informed the bank that she would manage to pay Rs 50 lakh, which the bank was not willing to accept. She further claims the interest is enormously exaggerated.
The locals rose to her support and set up a pyre in front of the house since 315 days. Their sympathy surrounds the fact that Preeta never availed the loan for her use.
The High Court had earlier issued order to oust Preetha's family out of the house. She  staged a fast-until-death protest following the order, 24 days after which govt intervened as her health failed.
The bank claims her house has already been auctioned for Rs. 38 lakh online.
Crores Worth Property Sold For 38 Lakhs
According to locals the village officer in 2010 had surveyed Shaji's 7 cents and estimated its cost at Rs. 90 lakh and the auctioning of entire 18.5 cents of land for Rs. 38 lakhs is corruptive, says a countercurrents.org site that's following the story closely.
Meanwhile court has recommended arrest if things go out of hand and women police officers have been deployed in readiness.
Popular names including social worker MedhaPatkar have come in support of Preetha.