Tragic : 19-year-old Gets Pushed to Death; Mock Drill Goes Wrong in Coimbatore
In a mock drill gone tragically wrong, a 19-year-old dies hitting her head on concrete after being pushed from second floor of her college building.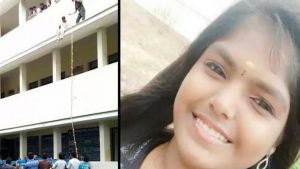 The incident took place on Thursday when members of National Disaster Management Authority (NDMA) sought to train students on rescue methods in an emergency scenario.
In the visual footage Logeswari, a 2nd year BBA student,  is seen sitting on the ledge of the 2nd storey of the building. It shows a NDMA member urging the hesitant girl to jump into the safety net held by a group standing below.
Suddenly when apparently off-guard, the NDMA member gives her a push that sends her tossing downwards where  her head hits the ledge below. She dies from impact as she lands in the net.
Police said participating girls and boys were asked to jump from the 2nd floor by the NDMA team.
A case has been registered against NDMA trainer TR Arumughum