Paris Jackson Reveals She's Bisexual
Paris Jackson, the daughter of late pop star Michael Jackson, told her fans on instagram that she is a bisexual.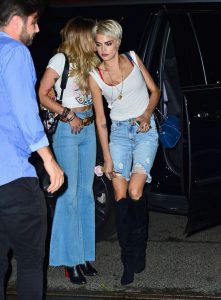 The 20-year-old actress, who is romantically linked with Cara Delevingne in recent months – told her fans she is attracted to both men and women.
Hosting an "Ask me anything" session on her instagram account, Jackson responded when one fan asked : "Are you bi?"
She replied : "That's what you guys call it so I guess, but who needs labels.(sic)"
However she refused to confirm speculation she's dating Suicide Squad actress Delevingne.
Paris had previously dated drummer Michael Snoddy and was rumoured to have reunited with soccer player Chester Castellaw earlier this year.