Tamil Nadu to let all 7 convicts in Rajiv Gandhi Assassination Case walk free
The Tamil Nadu govt has decided to set free all seven life convicts guilty in the assassination of former Prime Minister Rajiv Gandhi.  The decision came at the state cabinet meeting chaired by chief minister Edappadi K Palaniswami on Sunday evening.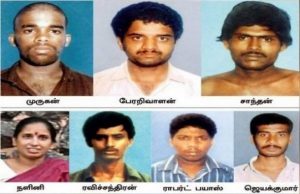 The move follow's Supreme Court ruling last week that the Governor shall be at liberty to decide as deemed fit on the mercy petition submitted by Perarivalan, one of the convicts.
Post the cabinet meeting, Fisheries Minister D Jayakumar explained extended mercy saying though Supreme Court's direction came on Perarivalan's plea, the other six convicts had made similar pleas to Governor and the State govt.
The Cabinet resolution recommending their release was been sent to the Governor Sunday itself, he added.
The release is expected to happen under Article 161 that empowers the Governor to grant pardons and to suspend, remit or commute sentences of any person convicted of offence over which state wields executive power.
The present decision has its basis on what the state government claims as Amma's(Jayalalithaa) stand on the matter and support from much of the Tamil community.
The convicts include – Nalini, T Suthendraja alias Santhan, Sriharan alias Murugan(Nalini's husband), AG Perarivalan alias Arivu, Rober Payas, S Jayakumar alias Jayakumaran and Ravichandran alias Ravi. Santhan, Murugan, Payas and Jayakumar are Sri Lankan Tamils.
All the lifers have  spent 26 years behind bars for their links to suicide bombing on 21 May, 1991 that killed Rajiv Gandhi. 14 others were also killed in the blast that targeted India's youngest prime minister.