Remand expires; Bishop Mulakkal to be produced in court today
Kottayam : Jalandhar bishop Franco Mulakkal, arrested in the sensational nun rape case, will be produced at First Class Judicial Magistrate in Pala today, as his remand period ends Monday 2.30pm . The priest was arrested Friday night after interrogation lasting three days.
In custody, Bishop was tripped to Kuravilangad convent for collecting evidence with special scrutiny at  Guest Room no. 20, where the alleged rape took place twice.
Prior to his arrest the the priest was grilled for hours together three days at Crime Branch office in Thripunithura. According to police souces, Mulakkal  largely maintained innocence and maintained "I dont Know" reply to much of the questioning.
With information not forthcoming on the Bishop's part, the probe team is set to plea court for a lie-detector test.
The arrest was based on incriminating contradictions in his statement.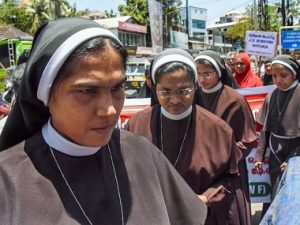 The Case
The case pertains to a nun who accused the priest of repeatedly raping and subjecting her to unnatural sex between 2014 and 2016.
The nun approached the police after her complaint within the church ranks fell on deaf ears. The victim later along with four other nuns took too protesting with placards at High Court Junction demanding the bishop's arrest.
In the wake of bishop's arrest after 3-day interrogations at Crime Branch office , the protesting nuns expressed satisfaction at the Bishop's arrest but added the battle would be won only when conviction is through.