No respite : HC refuses to grant bail to Bishop Mulakkal in nun rape case
Koch : Bishop Franco Mulakkal, accused of rape, had a legal setback as the Kerala High Court rejected his bail application today. The priest is lodged in Pala sub jail after probe team grilled him 3 days at crime branch office two weeks ago.
In today's hearing, the police strongly opposed the bishop's bail petition, citing that the investigations are presently at a critical juncture and letting out Mulakkal could hinder the process.
Justice V Raja Vijayaraghavan observed that, Mulakkal who is presently in remand, has incriminating evidences against him. They include 3 FIRs with court for attempts to influence witnesses.
The court said, it cannot allow bail after taking into account the preliminary evaluation of documents at hand.
Further HC said it will record statements of 7 persons including the nuns in secrecy.
Franco Mulakkal is country's first bishop to be jailed on charges of rape.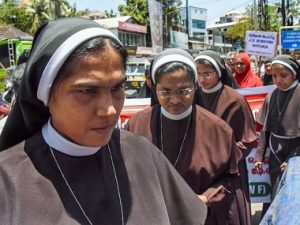 The Case
The case pertains to a nun who accused the priest of repeatedly raping and subjecting her to unnatural sex between 2014 and 2016.
The nun approached the police after her complaint within the church ranks fell on deaf ears. The victim later along with four other nuns took too protesting with placards at High Court Junction demanding the bishop's arrest.
In the wake of bishop's arrest after 3-day interrogations at Crime Branch office , the protesting nuns expressed satisfaction at the Bishop's arrest but added the battle would be won only when conviction is through.