Back to jail : Court extends bishop Mulakkal's remand up to 20 Oct
Kottayam :The Pala Magistrate court on Saturday extended rape accused Bishop Franco Mulakkal's remand until 20 October. The earlier judicial custody term ended today.
In today's hearing, the court took note of police submission that investigations in the case is at crucial point and letting the priest out could hinder building up vital evidences. The prosecutor pointed out how more statements of fellow nuns of the victim remains to be recorded under Sec 164 or CrPC.
Bishop Mulakkal was arrested on 21 Sept  after three days of interrogation at Crime Branch's hi-tech office in Thripunitura.
In its remand report earlier, police stated there exists evidence of the bishop sexually assaulting the nun twice at the convent's guest house in Kuravilangad, Kottayam.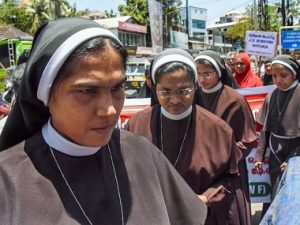 The Case
A nun who works in a church institution headed by the accused, in her complaint stated that, Bishop Mulakkal  repeated raped and subjecting her to unnatural sex between 2014 and 2016.
The nun approached the police after her complaint within the church ranks fell on deaf ears. The victim later along with four other nuns took too protesting with placards at High Court Junction demanding the bishop's arrest.
In the wake of bishop's arrest after 3-day interrogations at Crime Branch office , the protesting nuns expressed satisfaction at the Bishop's arrest but added the battle would be won only when conviction is through.
The bishop who is presently held in judicial custody, approached Kerala High Court on 3 Oct, but was denied bail.