Manju, accused in 15 cases, denied permission to visit Sabarimala
Kerala Dalit Mahila Federation leader, Manju, who attempted to trek Sabarimala Saturday, aborted plans after police stalled her to conduct a background check.
The 38-year-old woman has  13  cases in different districts.
Manju is  a Kollam Chathanoor native and arrived at Pampa base. Sge was about to commence the last 5-km trek to the shrine, where protesters in hundreds lay in wait for any woman of menstrual age getting past the point. When she  approached police for protection, the authorities said, a decision will be made tomorrow after they conduct a  background check.
Four women before Manju had attempted to make history, by entering the centuries old shrine, defying age-old ban. The recent Supreme Court verdict comes handy to these women and police are in dilemma with rising number of protesters creating a near war-zone atmosphere to oppose court ruling.
Earlier New York Times journalist Suhasini Raj, Telgu channel reporter Kavita, a Muslim resident from Kochi Rehana Fatima and a Christian woman Mary, tried there best to reach the 18-golden steps that led to the sacred shrine.
All returned after shrine shut on two of them and others were thwarted by furious protesters.
The backdrop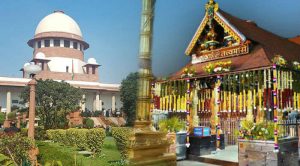 A group of five women challenged Kerala state rule that bars entry of women between ages 10 – 50 at the famed Sabarimala Temple. The petitioners argued that the rule violates fundamental right to equality and discriminates women. The Kerala High Court previously upheld the restriction on entry of women and the case came before Supreme Court in 2006.
On 29 Sep, Supreme Court ended the age-old ban holding that, devotion cannot be subjected to discrimination and patriarchal notion cannot be allowed to trump equality in devotion.
For centuries, women of menstrual age were restricted from entering the temple as its presiding deity, Lord Ayyappa, is considered celibate.
The state has been witnessing massive rallies against the Supreme Court verdict, putting pressure on the hesitant ruling Left to file a review petition or bring in an ordinance.