Pinarayi blames Sangh Parivar for organising protests : Sabarimala
Thiruvnanthapuram : Chief Minister Pinarayi Vijayan accused Sand Parivar for "planned and deliberate attempt" to create volatile situation in the state. He said they were responsible for trying to transform Sabarimala into conflict zone.
Doubling on his stand that  govt is obliged to implement Supreme court verdict, Pinarayi said, the administration has constitutional responsibility to facilitate the apex court's ruling, thereby ensuring that women of all ages can offer prayers at Sabarimala.
The temple after opening, first time after the controversial verdict on 17 Oct, witnessed hundreds of protesters thwarting each attempt made by young women to reach the shrine, despite heavy police security.
CM also condemned the tantri(priest)'s stand that he would shut the shrine if young were to enter Sannidhanam.
"Sabarimala is sacred stretch. Faithfuls are free to go to Sabarimala and it is duty of govt to ensure their safe passage," said Pinarayi.
Pinarayi opened up his rebuke of Sangh Parivar in the context on twitter.
The backdrop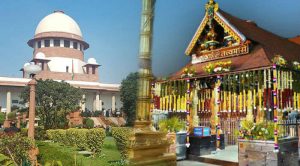 A group of five women challenged Kerala state rule that bars entry of women between ages 10 – 50 at the famed Sabarimala Temple. The petitioners argued that the rule violates fundamental right to equality and discriminates women. The Kerala High Court previously upheld the restriction on entry of women and the case came before Supreme Court in 2006.
On 29 Sep, Supreme Court ended the age-old ban holding that, devotion cannot be subjected to discrimination and patriarchal notion cannot be allowed to trump equality in devotion.
For centuries, women of menstrual age were restricted from entering the temple as its presiding deity, Lord Ayyappa, is considered celibate.
The state has been witnessing massive rallies against the Supreme Court verdict, putting pressure on the hesitant ruling Left to file a review petition or bring in an ordinance.
On all 5 days the temple opened for monthly pooja, protesters thwarted each attempt by young women to access the ancient shrine.