"It could be any one of us now" Sr Anumpama reacts to Fr Kuriakose death
Sister Anupama, the frontline protester in the nun rape case, spoke of Fr Kuriakose's sudden death in Jalandhar as signal of events that might be in store for them.
"Franco will not hesitate to harm all those who stand in his way," said Sister Anupama.  In death of the Kuriakose, we have lost a valuable witness unexpectedly, she mourned, adding that any one now could be next in line.
The nun protesting against rape accused bishop Mulakkal, had expressed fear for their lives, soon after High Court granted him bail on 15 October albeit strict conditions.
Sister Anumpama said she was pained by the grand reception Mulakkal walked into on reaching Jalandhar.
The nun, however asserted that they would continue to fight for justice.
The Backdrop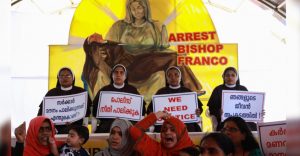 A nun who works in a church institution headed by the accused, in her complaint stated that, Bishop Mulakkal  repeated raped and subjecting her to unnatural sex between 2014 and 2016.
The nun approached the police after her complaints within the church ranks, fell on deaf ears. The victim later, along with four other nuns, took too protesting with placards at High Court Junction demanding the bishop's arrest.
In the wake of bishop's arrest after 3-day interrogations at Crime Branch office on 21 Sept, the protesting nuns expressed satisfaction at the outcome, but added the battle would be won only when conviction is through.
The Bishop after several failed attempts, procured bail on strict conditions from Kerala High Court on 15 October, after the bench observed that the probe is nearly over.
Mulakkal has surrendered his passport to the court and is not allowed inside the state unless summoned by investigators.
The nuns expressed fear for their lives in the wake of court's bail decision. Fears were further heightened by sudden death of Father Kuriakose, a key witness against Mulakkal, days after the latter was released from jail.