US to revoke visas of Saudi operatives accused of killing Khashoggi
The US Secretary of State, Mike Pompeo, announced Tuesday that the country will revoke visas of Saudi operatives accused of murdering Saudi journalist Jamal Khashoggi.
The brief came after Pompeo met with Saudi and Turkish officials over the issue. No numbers were given out however as to how many visas would be cancelled.
The Secretary also told reporters that US has identified some of the people "who we suspect to be responsible" for Khashoggi's death.
 Acknowledging that US shared strategic interests with the Saudis, Pompeo promised , the announcement would not be the last word on the matter but clarified it's stand saying "We're making very clear that the United States does not tolerate this ruthless action to silence Mr. Khashoggi, a journalist, through violence."
The Murder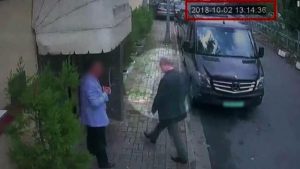 On Oct 2, Khashoggi, a self-exiled Saudi journalist, entered the Saudi Consulate in Istanbul to collect documents to marry a Turkish woman.
He did not come out and his fiancee was told by consulate staff that he had left by the back door.
She reported to police on his disappearance when he failed to emerge from the diplomatic facility.
Suspicion grew globally about Saudi hand as Khashoggi was a staunch critic of its regime. The Saudi government initially insisted that Khashoggi left the consulate alive, but later after Turkish probe, admitted that he died there in an "interrogation that went wrong".