Rahul Easwar booked for boasting self-bleed strategy at Sabarimala
Kochi : Rahul Easwar faces non-bailable charges of inciting religious hatred for his utterances at a press conference in Ernakulam, soon after his release from police custody.
Briefing reporters, he had said the protesters had Plan B up their sleeve, whereby volunteers would inflict would on selves to spill blood inside sanctum, thereby forcing the shrine to shut. The aim was to force close the temple should women of 'barred' age enter under police protection.
The police had sought expert legal opinion before registering the case.
Rahul has been accused by top CPM leaders for transforming Sabarimala into a conflict zone.
He was arrested in near abduction style on 20 October from Sabarimala, where he headed hundreds of protesters at the base camp.
The Verdict and Aftermath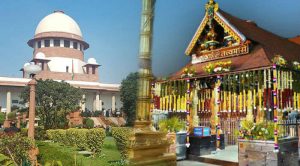 A group of five women challenged Kerala state rule that bars entry of women between ages 10 – 50 at the famed Sabarimala Temple.
The petitioners argued that the rule violates fundamental right to equality and discriminates women. The Kerala High Court previously upheld the restriction on entry of women and the case came before Supreme Court in 2006.
On 29 Sep, Supreme Court ended the age-old ban holding that, devotion cannot be subjected to discrimination and patriarchal notion cannot be allowed to trump equality in devotion.
For centuries, women of menstrual age were restricted from entering the temple as its presiding deity, Lord Ayyappa, is considered celibate.
The state has been witnessing massive rallies against the Supreme Court verdict, putting pressure on the hesitant ruling Left to file a review petition or bring in an ordinance.
On all 5 days the temple opened for monthly pooja in October, protesters thwarted  attempts by young women to access the ancient shrine.