War ahead : BJP to station 1000 elderly women to block the young
Thiruvananthapuram : BJP has hit upon a novel strategy to add teeth to Sabarimala protest , when the temple reopens for its peak pilgrimage season of Mandala-Makaravilakku on 16 Nov. 1000 elderly women with irumudiketu will take lead positions at the protest each day, stopping any young woman who might attempt to visit the shrine.
Chief Minister Pinarayi Vijayan had earlier said that people or protesters will not be allowed to stay on at Sannidhanam or camp at Sabarimala, after the shrine opens.
Police had  recommended that no person should be allowed to stay at Sabarimala for more than 24 hours. That way, police can spread around each passage to the shrine and make the area leading to the temple, a safe zone, they claimed.
While police can use force or be strict with men in the frontline, handling women would not be as easy, hence the BJP strategy.
The shrine will open at 5 pm for Mandala season on 16 Nov and close on 27 December after the mandala pooja. The temple will reopen on 30 Dec and remain thus until 20 Jan after Makaravilakku.
According to sources, the BJP central leadership has endorsed protest against SC verdict and preserve the custom. The protests are planned to expand to adjoining states of Tamil Nadu, Karnataka and Andhra Pradesh.
The Backdrop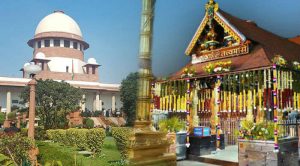 A group of five women challenged Kerala state rule that bars entry of women between ages 10 – 50 at the famed Sabarimala Temple. The petitioners argued that the rule violates fundamental right to equality and discriminates women. The Kerala High Court previously upheld the restriction on entry of women and the case came before Supreme Court in 2006.
On 29 Sep, Supreme Court ended the age-old ban holding that, devotion cannot be subjected to discrimination and patriarchal notion cannot be allowed to trump equality in devotion.
For centuries, women of menstrual age were restricted from entering the temple as its presiding deity, Lord Ayyappa, is considered celibate.
The state has been witnessing massive rallies against the Supreme Court verdict, putting pressure on the hesitant ruling Left to file a review petition or bring in an ordinance.
On all 5 days the temple opened for monthly pooja in October, protesters thwarted  attempts by young women to access the ancient shrine.