Lakshmi returns to a home without Balabhaskar and Thejaswini
A month after the tragic accident, Lakhsmi on Thursday returned to her house in Thiruvananthapuram, empty of her violinist husband Balabhaskar and sounds of her two-year-old Thejaswani, both of who died in the crash.
Thejaswini died on the day of the accident hours later, while Balabhaskar, died a week later in coma.
Lakshmi was unaware of the losses and both were buried without informing her, owing to her unconscious state and being put on ventilator.
A week after being taken off the life-support, she was slowly hinted  of the tragedy by her mother Santhakumari. Her first reaction was that of numbness and lack of emotion, in what is considered to be unable comprehend reality.
Later she turned inconsolable and slowly returned to calm state accepting fate for what it dealt.
Lakshmi is reportedly stable and is slowly returning to normal life.
Police expect to take her statement on the accident soon, especially in light of the twist, where the driver Arjun claimed Balabhaskar drove the vehicle at the time of accident, contrary to the presumption until recently.
The tragic accident
The family was returning from the famed Shiva temple of Vadukumnathan in Thrissur on 25 September, after rituals for their daughter, Thejaswini Bala. The baby girl was born 16 years after  the couple's marriage.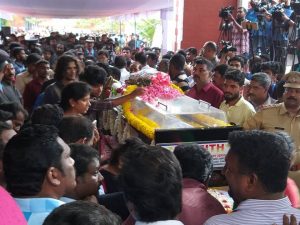 Balabhaskar was until now believed to have sat in  front with  child nestled in his arms. Around 2 am, the car crashed into a tree by the highway at Pallipuram, near CRPF camp in Thiruvananthapuram.
Little Thejaswini died the same day and Balabhaskar died five days later on 2 Oct of cardiac arrest. The musician had sustained serious injuries to brain and underwent a series of surgeries while in coma. 
The cause of the accident is considered to be the person at the wheel, believed to have been driver Arjun until now,  dozing off.