New Twist : Lakshmi contradicts driver's statement on who drove the car
Thiruvananthapuram : Adding confusion over circumstances around car accident that claimed violinist Balabhaskar and his 2-year-old daughter's lives, Lakshmi who is home after nearly 2 months of hospitalisation, says driver Arjun was at the wheel while Balabhaskar lay in the back seat when the accident occured.
Arjun in his statement to the police had said, he rode the car till Kollam, where they had refreshments at a juice shop. From there, Arujn said Balabhaskar took over driving while he took the backseat and Lakhsmi sat in front holding the child.
Lakshmi refutes the claim saying,Balabhaskar does not drive long distances and was laid up at the rearseat right from Thrissur.
In face of new twist, police will seek to corroborate the juice shop halt and examine CCTV images along the route for arriving at the exact happening.
When asked police declined to comment if there could possibly be  memory issues after a traumatic episode.
The tragedy and confusion
The musician's  family was returning from the famed Shiva temple of Vadukumnathan in Thrissur on 25 September, after rituals for their daughter, Thejaswini Bala. The baby girl was born 16 years after  the couple's marriage.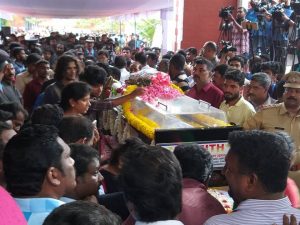 Balabhaskar was until now believed to have sat in  front with  child nestled in his arms. Around 2 am, the car crashed into a tree by the highway at Pallipuram, near CRPF camp in Thiruvananthapuram.
Little Thejaswini died the same day and Balabhaskar died five days later on 2 Oct of cardiac arrest. The musician had sustained serious injuries to brain and underwent a series of surgeries while in coma. 
The cause of the accident is considered to be the driver, Arjun dozing off. He however claimed that Balabhaskhar was at the wheel when the car crashed.
After recovering from her injuries, Lakshmi refuted the statement saying Balabhaskar lay on the backseat right from Thrissur and that Arjun was at the wheel, while she sat on the passenger side holding the baby.