Kingpin of twin-ATM robberies in Kochi nabbed; 2 arrested earlier
Kochi : The brain behind ATM robberies, carried out near Kochi in October  has been arrested from Haryana. Two men who executed  the plot were nabbed earlier, of whom  one is lodged in Tihar jail on bike-lifting charges.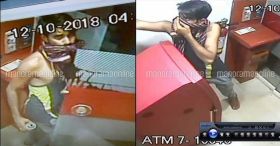 According to police Haneef Khan plotted the loot, while Pappi Singh and Naseem Khan worked it out.
In wee hours of 12 October, the Singh and Khan arrived in a stolen tempo van at State Bank  of Inida's ATM at Irumpanum near Kochi. They at first spray-painted the CCTV to prevent recording, some images got wired anyway.
The pair then used gas-cutters to rip open the machine and fled with Rs 25 lakh in cash. The duo then reached South Indian Bank kiosk at Koratty and repeated the operation, this time making away with Rs 10 lakh in loot. Post the operation, the robbers abandoned the van there.
Forensics later found blood samples of one culprit apart from three finger prints and a few strands of hair, that clinched their involvement further.