Amid faltering nuclear disarmament negotiations, North Korea tested a "newly developed ultramodern" weapon in an even supervised by leader Kim Jong Un, on Friday.
While the details of the weapon are unknown, it is latest sign that Pyongyan is prepared to return to a more militaristic relations with Washington, if talks continue to remain unfruitful.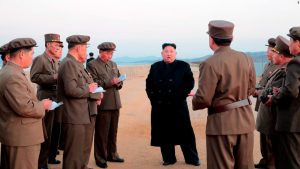 "He's tiptoeing towards a more aggressive posture in negotiations with the US and he's signaling that he's not going to give way and can simply return to his old practices if (the US) don't change their approach," Josh Pollack, senior research associate at the Middlebury Institute of International Studies at Monterrey.
This is the first time Kim has demonstrated a military-focused event, since his high-profile summits with South Korean President Moon Ja-in and US President Donald Trump early this year.
Despite huge hopes for a breakthrough in those meeting, little progress if any was made in its course.