After 13 hours of being stranded at Kochi's Nedumbassery airport owing to demonstrations there, Trupti Desai, the firebrand feminist with history of going after temple traditions, finally bowed out of the state.
Trupti boarded 9.30 pm Air India flight back to Mumbai.
She was unable to get out of the airport here since her arrival at 4 am today after dozens arrived all through the day at Nedumbassery to stage demonstrations against her Sabarimala pilgrimage plan.
Late in the day as protests swelled, airport functions became affected prompting authorities to contact district collector for intervention.
According to sources, officials at behest of collector communicated with Trupti, who slowly gave up her day-long determination and agreed to return.
Before leaving, Trupti said  she does not fear protesters and  will return for Sabarimala without prior information next time.
Trupti Beaten Up At Most Temples Revolutions
Trupti who seemingly enjoys breaking temple traditions does it by winning court verdicts on the anvil of gender equality. However she has without variance  consistently faced violence at each of her bids.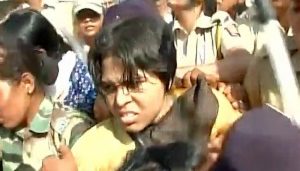 Armed with court ruling, on 9 April 2016,  she headed to pull  down the Shani Shingnapur tradition of barring women for prayers. There, she was beaten up black and blue by local women.
The near-paralytic attack despite police escort resulted in hospitalisation later.
Police however said the assault was because she arrived in sleeveless jackets instead of a traditional sari women wear to shrines.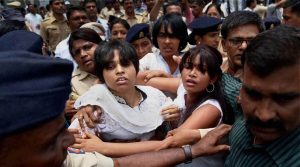 Later on 14 April 2016, barely hours after Supreme Court verdict allowing such entry, Trupti along with a 50 women, attempted to enter the sanctum sanctorum of Goddess Mahalaxmi temple in Kolhapur.
This time, he attackers who shouted "Don't let Trupti Desai get out alive" pulled her hair, tore her clothes and abused her. When hospitalised again, she had said "I think the attackers planned to kill me."
On  26 May of 2016, though she attempted to enter the sanctum sanctorum of Kalpeshwar temple in Maharashtra's Nasik district, police stopped her following huge protest there.