World's beautiful sunset and waterfalls; Malang, the wonderful land
Bali is one of the best tourist destinations for all travelers. The country invites tourists at any time of the season in the year to explore many things there. Although every season has its own beauty in Bali and can travel at any time, the best time will fall in between April and August.
Booking tickets as per the season give you more chance to explore the country. Bali kite festival happens during June and August. Bali looks more pretty during this season.
There is a place called Malang, which welcomes explorers in and around the world to a peaceful yet beautiful tourist spot. It is unlike Bali. Malang is definitely the place that is worth to explore, with the beautiful mountain ranges to the amazing foods that city can offer, Malang has it all.
Malang is a land where more and more secrets are being revealed as one tries to find them.
Not beaches but waterfalls make Malang more beautiful. Each of the scattered waterfalls has its own charm and beauty in the rich and diverse landscape of Malang.
Anyone can get their mood boosted by just watching a sunrise over the horizon in Malang.
Coba sewu Waterfall is located in a small village in the highlands of Java, a two-hour drive to the East of Malang. To get to the waterfall you need to climb down a series of bamboo ladders into a deep ravine. It's a tricky climb, but the view from the bottom of the waterfall is definitely worth the journey.
Mount Bromo is the most famous tourist destination in East Java. It's most famous for sunrise over mount Bromo and there's a good reason for it. The view of Mount Bromo surrounded by mist as the first rays of sun climb over the horizon is breathtaking.
Sembu Island is a small island on the southern coast of Malang. There are wonders and attractive beaches hidden in nature. The island is surrounded by some of the most beautiful beaches in Malang. One can travel from one seashore to another which is a specialty of this Island.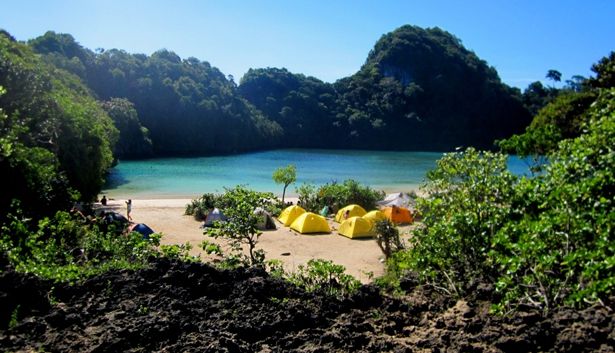 One can travel to Malang via major airports from Jakarta, Surabaya, Balikpapan, or Bali. Malang Overland can also be reached by bus, train, or taxi from Jakarta, Bandung, Yogyakarta, and Surabaya.