American actor, producer, martial artist and musician,  Steven Seagul, walked out of an interview on Thursday after he was asked about sexual assault allegations made against him.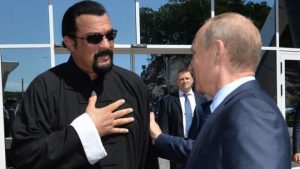 During the Thursday in an interview with BBC News night, reporter Kirsty Wark began saying "You have spend a lot of time in Russia, you spend a lot of time in America, you are making films," and so forth.
Then she asked Seagal "In terms of your life in America, you have been very much caught up in all the allegations of sexual harassment," Wark, 63, continued "You had a rape allegation. I wonder how you deal with all that."
At the mention of "rape" Seagal proceeded to take off his earpiece, helped by a camera crew.
Apparently assuming connectivity problems, the reporter was heard asking out "Hello, Steven Seagal?" repeatedly, while the actor had long stormed out of the studio.
The 66-year-old actor was accused of rape and sexual harassment by several women including Portia de Rossi, Juliana Margulies, Jenny McCarthy and Inside Edition correspondent Lisa Guerrero.
Seagal has denied all allegations.