One of the members of killer gang that murdered dissident journalist Jamal Khashoggi phoned the Saudi prince's aide shortly after the crime, say emerging reports. "Tell your boss" the mission is accomplished, reported the New York Times.
While Turkish intelligence acknowledges the prince is not mentioned by name, "your boss" was a reference to Crown Prince Mohammd bin Salman.
Maher Abdulaziz Mutreb, one of the 15 Saudis sent to Istanbul to target Khashoggi, made the call and spoke in Arabic. Incidentally, Mutreb is security officer who frequently travels with the crown prince.
In US which rallied behind the probe to nail the culprits, the intelligence officials view the recording as some of the strongest evidence yet linking bin Salman to the murder.
Saudi officials have all along denied involvement of crown prince in the death of journalist Khashoggi, an arch critic of the Arab regime.
The Murder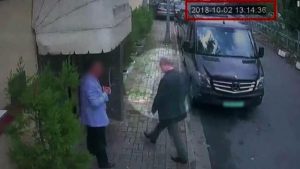 On Oct 2, Khashoggi, a self-exiled Saudi journalist, entered the Saudi Consulate in Istanbul to collect documents showing he had divorced his ex-wife so he could re-marry.
Later his fiancee, who waited outside the diplomatic facility, was told by  staff that he had left by the back door.
When he failed to re-emerge, she reported the disappearance to police in a formal complaint.
Suspicion revolved around Saudi,as Khashoggi was a staunch critic of its regime. The Saudi government initially insisted that Khashoggi left the consulate alive, but later after Turkish probe, admitted that he died there in an "interrogation that went wrong".